Fire in the Glen

Our second full-length CD,
Pirates, Wakes & Whiskey,
is SOLD OUT!
Track list:

• 1. Whiskey You're the Divil
• 2. Munster Buttermilk
Trad Jig in G
Merrily Kiss the Quaker
•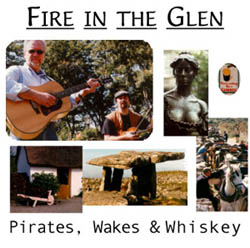 3. I'll Tell Me Ma
• 4. Niel Gow's Lament for the Death of His Second Wife
Julia Delaney
Minnie Adams' House
• 5. Beggars to God
• 6. Haste to the Wedding
Off She Goes
Irish Washerwoman
• 7. Wild Rover
• 8. Ships Are Sailing
The Full-Rigged Ship
Lay Dee at Dee
• 9. Carolan's Draught
Sally Gardens
Wind That Shakes the Barley
• 10. Keep It Up
• 11. Give the Fiddler a Dram
Liberty
Staten Island

LIVE TRACKS (recorded at Bube's Brewery)

• 12. Scots-Irish
• 13. Mari Mac
• 14. The Road to Lisdoonvarna
O'Keefe's Slide
The Stool of Repentance
Stan Chapman's Jig
• 15. The Annotated Finnegan's Wake
• 16. The Susquehanna Pirate
• 17. Lannigan's Ball
The Mucking of Geordie's Byre
Rattlin' Bog
John Ryan's Polka
• 18. The Old Dun Cow
• 19. Excursion 'Round the Bay

Tom Knapp: fiddle, bodhran, backing vocals
Chet Williamson: lead and backing vocals, guitar
Guests: Mark Sullivan (percussion) and Tim Truman (miscellaneous frippery)
Recorded, mixed and mastered by Tim Truman at Punkin Studios, Lancaster, Pa.
Read a review by Nicky Rossiter at Rambles.
Back to the Fire in the Glen home page.